"Current collaborations with health institutions, have current collaborations with local, national, or global health institutions to improve health and well-being outcomes."
a. Community Development Faculty of Law Universitas Indonesia "Peningkatan Kompetensi Tenaga Medis dan Kesehatan Terhadap Penyelesaian Sengketa Pelayanan Kesehatan 4.0 Serta Antisipasi Traveller Diseases dalam Rangka Mendukung Peningkatan Pariwisata Lombok NTB" (Competence of Medical and Health Workers in Dispute Resolution for Health Services 4.0 and Anticipation of Tourist Diseases in Order to Support Increasing Tourism in Lombok, NTB)
After the Covid-19 pandemic that hit the world since early 2020, health issues became the main issue hampering the tourism sector. The transmission of Covid-19 through airborne droplets from human to human in densely populated areas of tourist attractions such as beaches, circuits, hotels, restaurants and shopping centers is a major concern for tourists. To anticipate this, medical personnel, health workers and health service facilities are required to take preventive measures and provide services if needed. In addition to Covid-19, traveler's diseases are also a health threat for tourists, especially foreign tourists, diseases ranging from digestive disorders to respiratory infections are challenges for doctors, health workers and health service facilities in tourist areas. To anticipate this, an integrated health service is needed that is easily accessible to tourists, as well as prevention efforts.
Preventive measures and services are not only carried out through tightening health protocols, screening provisions and preparation for Covid-19 isolation services. The construction of facilities and the addition of the number of human resources, but also the need for an integrated service system to ensure optimal, fast and efficient service, one of which is through a digital platform. Digital health and medical services are certainly not two things that are foreign to the people of Indonesia. Telemedicine, teleconsultation and e-health services have become a daily part of Indonesian society. With the existence of digital-based health and medical services, the challenge lies in health and medical human resources to adapt to this 4.0 health system.
Doctors, nurses, health service facilities and other health professionals are expected to be able to use, utilize and understand regulations or laws surrounding the health system 4.0. such as electronic medical records, electronic informed consent and protection of patient personal data. In addition, medical personnel, health and health service facilities must also understand legal aspects, especially regarding the limits of medical and health services 4.0. The health system 4.0 will be the backbone of the provision of integrated health and medical services for tourists, as well as support the future development of the tourism sector on Lombok Island and West Nusa Tenggara Province.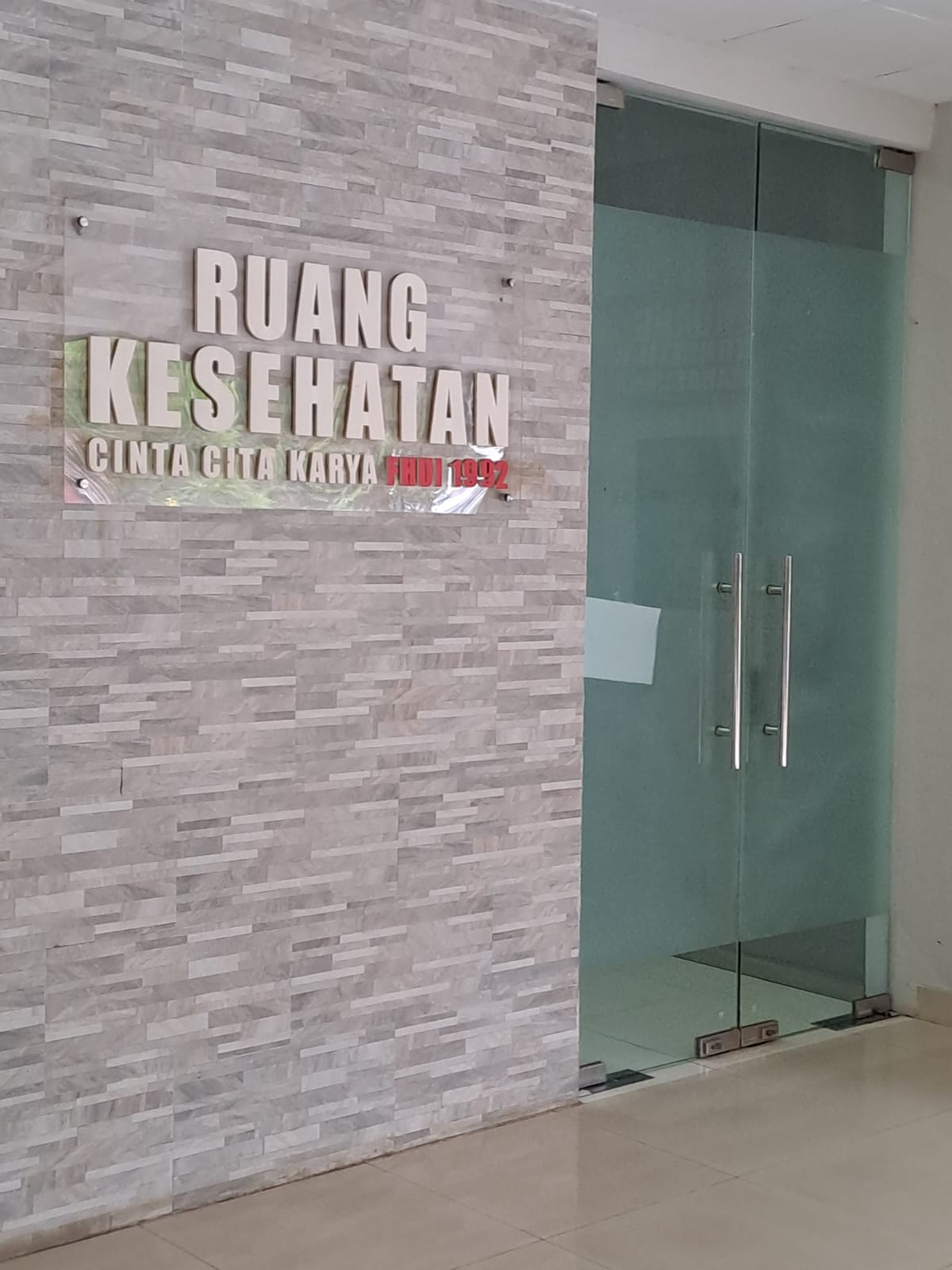 evidence link :
https://law.ui.ac.id/pengabdian-masyarakat-fhui-peningkatan-kompetensi-tenaga-medis-dan-kesehatan-terhadap-penyelesaian-sengketa-pelayanan-kesehatan-4-0-serta-antisipasi-traveller-diseases-dalam-rangka-mendukung/

b. Vaksinasi COVID-19 for University of Indonesia Students
The Faculty of Law, University of Indonesia provided news related to the Klinik Satelit Makara Universitas Indonesia, opening registration for Phase 1 vaccination for 1,500 University of Indonesia Students starting from July 21-23, 2022 at the Klinik Satelit Makara, Universitas Indonesia.
evidence link : https://www.instagram.com/p/CRWKbXrsCQa/?utm_source=ig_web_copy_link
c. Pengabdian Masyarakat FHUI: Implementasi Layanan Hukum 4.0 dalam Rangka Meningkatkan Kompetensi
The Health Law Teaching Team and Research Unit of the Faculty of Law, University of Indonesia were present in Pamekasan to provide legal provisions for hundreds of medical, health and hospital administration personnel in Pamekasan. This workshop and lecture activity is designed to provide debriefing as well as provide answers to the concerns of medical personnel, health and hospital administration towards health services, various digital technologies and information that are currently rampant and trending in the midst of society, especially millennials. The goal is that medical personnel, health and hospital administration personnel can understand the legal aspects in the field of health services, especially misguided services 4.0. This is important to minimize medical disputes that can occur.
Basically, Health 4.0 services which include telemedicine technology, telehealth and also teleconsultation are the new normal in health services in Indonesia. The 4.0 health evolution plan in Indonesia has been formulated since the enactment of the Minister of Health Regulation Number 46 of 2017 concerning the E-Health Strategy.
evidence link : Pengabdian Masyarakat FHUI: Implementasi Layanan Hukum 4.0 dalam Rangka Meningkatkan Kompetensi – Fakultas Hukum Universitas Indonesia
3.3.3. Shared sports facilities
Share sports facilities with the local community, for instance with local schools or with the general public.
Free access to all facilities
Free access to some facilities
Charged access
3.3.4. Sexual and reproductive health care services for students
Provide students access to sexual and reproductive health-care services including information and education services.
Free access to all facilities
Free access to some facilities
Charged access
3.3.5. Mental Health Support
Provide students and staff with access to mental health support.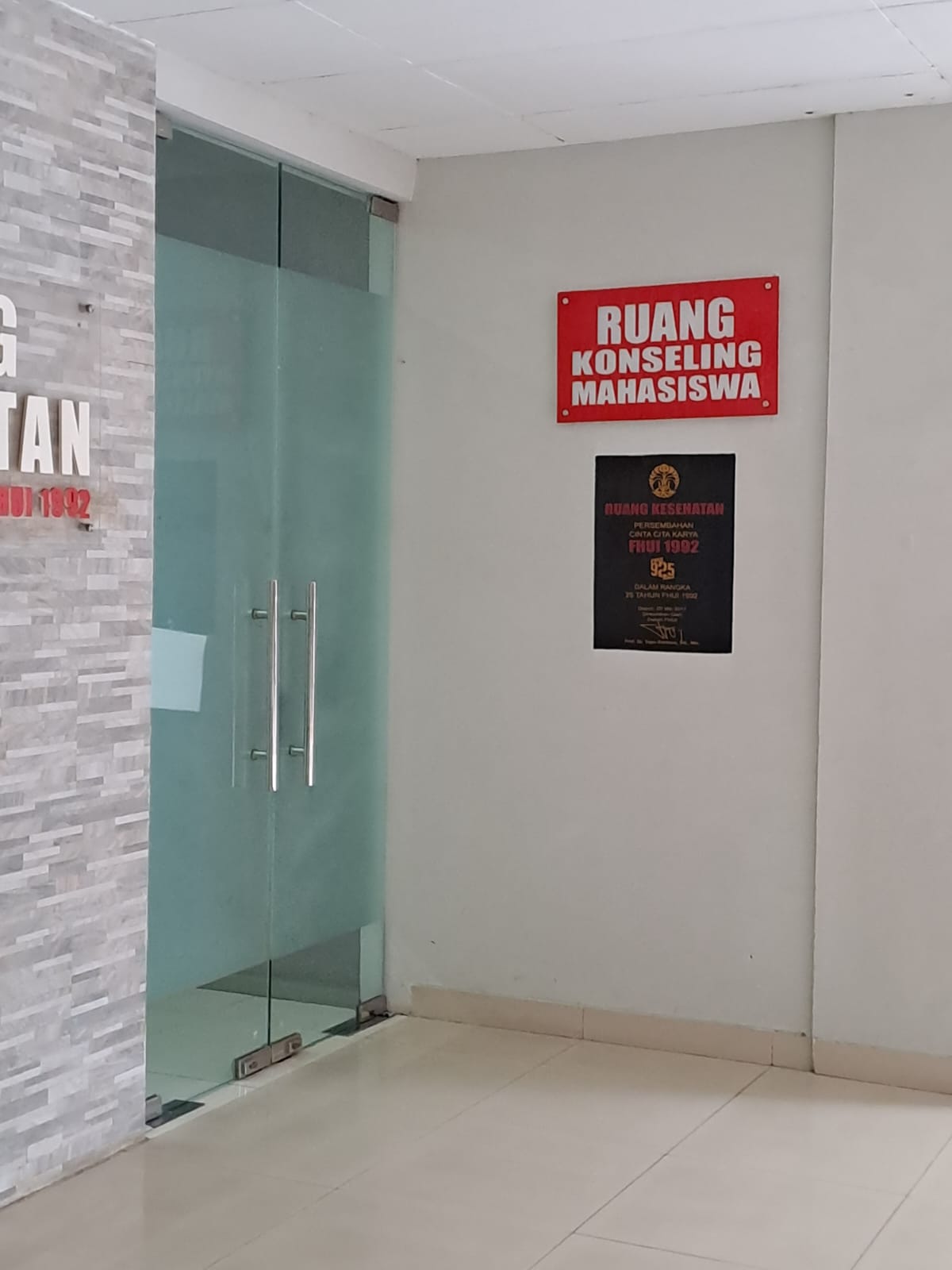 Student Counseling Clinic in Faculty of Law Universitas Indonesia
Faculty of Law Universitas Indonesia provides a counseling consultation service for our students. The Student Counseling Clinic was established in the middle of 2018, with the objection to helping FHUI students who have mental or psychological problems. We have a trained psychologist as a consultant. The activities carried out by the student counseling department of FHUI are divided into 2 categories of activities, namely preventive and curative. Preventive, for example, holding seminars that contain psychoeducation for students regarding relevant issues felt by them while at FHUI, for example adaptation issues for students in semesters, self-concept, academic targets, and so on. The second service is counseling for students who really need to do psychological consultations because of the problems they are facing. The form is individual or group counseling if services are needed.
Counseling services are open every weekday, Monday-Friday from 08.00 to 16.00. Students who want to do counseling must first register through the google form. Whenever students need consultation, they can make an appointment to meet our counselor, either online or in a face to face meeting. These facilities encourage students to seek help from professionals whenever they have a problem with their mental health. Thus, these facilities help students to improve their mental well being. So far, more than 200 cases have been handled since 2018.
evidence link : SDG 3 – Google Drive
3.3.6. Smoke-free policy
Universitas Indonesia has established a smoking free area within the campus area since 2011 based on the Rector's Decree number 1805/SK/R/UI/2011 concerning the Universitas Indonesia No-Smoking Areas (KTR UI). These technical guidelines have been prepared in order to provide more complete information and a uniform reference regarding the implementation of KTR UI at the faculty, postgraduate, and university levels. 'No smoking area' banners also posted in some areas inside campus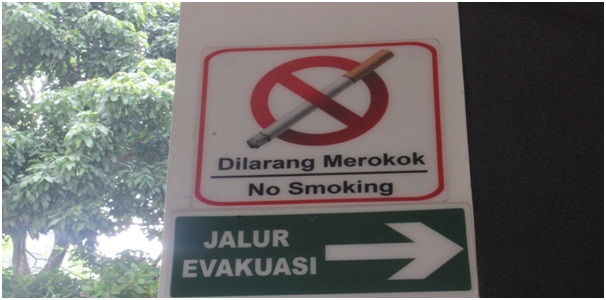 Evidence Link:
https://humas.ui.ac.id/sites/default/files/Booklet%20KTR-opt.pdf
https://www.ui.ac.id/ktr-upaya-ui-kurangi-perokok-di-kampus/
3.3.6. Smoke-free policy
Have a 'smoke-free' policy.
Smoking-free campus
In this program, FHUI refers to the Decree of the Rector of the University of Indonesia Number: 1805 / SK / R / UI / 2011 concerning the UI No Smoking Area.
In addition, FHUI encourages the academic community to use bicycles. Besides, the academic community is encouraged to go home with friends in one direction to reduce air pollution.
evidence link : Pembangunan Berkelanjutan – Fakultas Hukum Universitas Indonesia (ui.ac.id)